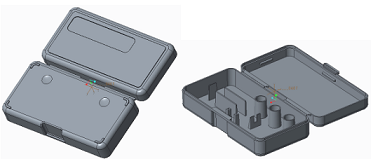 Model picture 7th Apr. 2018 formed by parameters from box sample scanning of 3-dimensional laserscanner
1)Black box in polypropylene(PP)
2)Box size: 114x59x29.5mm
3)3-plate mold size: 30x27x30cm
*Three-plate mold generally refers to pin-point structure mold. With a extra stripper plate, cost of three-plate molds is relatively high, injection pressure is greater, there is additional cost for retrieving runner material. Its advantages are: not using cutting pliers to cut runner material, leaving only a small point on the surface, suitable for part/product need high injection pressure and high appearance requirements.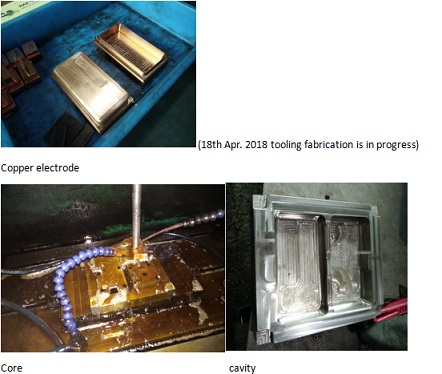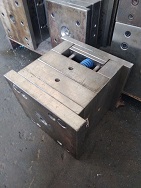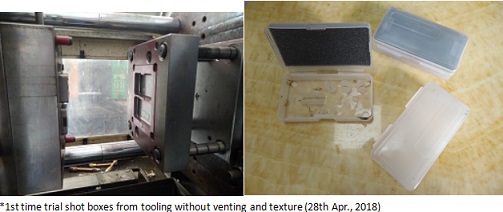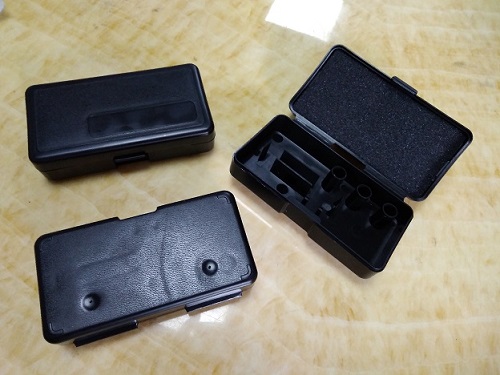 Photos taken on May 4th, 2018, actual measured dimensions are very close to drawing and box sample
*Customer says: 'Nice, all is ok after checking (box samples).' - 8th May, 2018
*Plastic raw material: Polypropylene T-30S made by Fujian Zhongjing Petrochemical Co., Ltd.(17th May, 2018)
Property grade: Standard level
1. Physical properties: Moldability is good, surface of the product is glossy and easy to color, but due to bigger shrinkage, thick-walled products are easy to sag.
2. Mechanical properties: most prominent performance is resistance to bending fatigue, PP one-piece movable hinge molded in PP can withstand 7x107 times folding bending without damage.
3. Thermal properties: PP has good heat resistance, melting point 160~170℃.
Application: Sports Equipment, Appliance Parts, Automotive Parts, Electrical and Electronic Components