Above photo taken on 9th Mar., 2017
Above photos: left one was taken on 23rd Sept., 2017; right one was got on 24th Nov., 2017, Assemblied equipment for one of functions, catching fruit flies. glueing method seems still ideal for assembly work, further test is necessary to verify......
*Transparent plastic parts, in UV resistant polycarbonate
*Part A and B: transparent green color(Pantone RAL 6017 or 6025) and UV resistant; Part C: transparent, UV resistant
Part D: transparent yellow color(Pantone RAL 1021 or 1026) and UV resistant
*Part sizes: A: Top Dia.130.6mm; bottom 215x160mm; side slope length 135mm; wall thickness 3.6mm
B: Top 178.7x131mm; bottom 215x160mm; side slope length 42mm; wall thickness 3.6mm
C: Dia.125.76mm; Wall thickness 2.0mm (1.0mm bottom + 1.0mm embossed ring on edge)
orignial 1mm bottom thickness is hard to be molded, plastic-short possibly to occur
D: Top Dia.95.83mm Max. outline; Bottom Dia.120mm; height: 70mm; wall thickness 3mm
*One tooling (Mold) for each part, 1X1 cavity for each tooling(Mold)

Cores of toolings (from left to right): B. PC002 D. PC004 C. PC003 A.PC001

Cavity of tooling B. PC002; Cavity side of tooling C. PC003
Customer comments: 'can we order from you 300 lower and upper parts of these housings in dark green and 100 lower and upper parts in bright green?
I know that the molding form is not hardened yet, but is it possible to get this amount of parts before your New Year Festival?'
- Dec.20th, 2017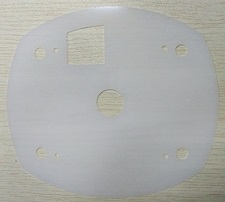 iscout diffusor v2 (by engraving machine 29th Nov., 2018): part sample still don't function efficiently, further design change is probable.(28th Feb., 2019)