*Parts name: White UV resistent plastic parts (17th Jan., 19)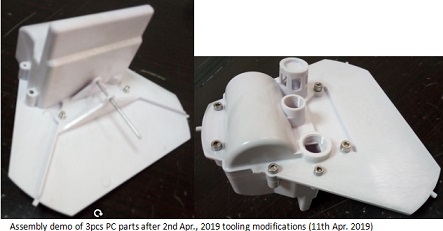 *Application: Lora rain gauge
*In material: PC-1003R (w/ blue base color from pigment making viewpoint)
*One tooling: 1x1x1 cavities
Steel material for core and cavity: 718H
*Mold steel 718h is vacuum-melted chrome-nickel-molybdenum alloy steel. It is quenched and tempered, no heat treatment is required. Shorten mold making cycle
*Mold steel S136H: applicable for high precision surface polishing, excellent rust and corrosion resistent and less deformation from heat treatment, pre-hardened 30~35HRC, higher cost
The suitable is best, the best isn't necessarily best for application.
*Injection gate structure:Edge sprue
*Dia.2mm holes at top of 2pcs support wall changed to Dia.2.5mm, steel pin in this diameter which form these holes fixed on slide system is durable during repeated moulding process. The 2pcs Dia.2mm holes are changed to Dia.1.8, then they are enlarged by drilling way to Dia.1.97 ~ 1.98, so nominal dia.2mm(actually a bit less) rod can be held tightly in them.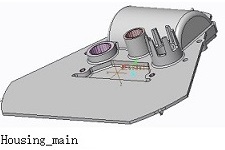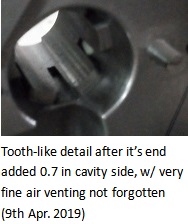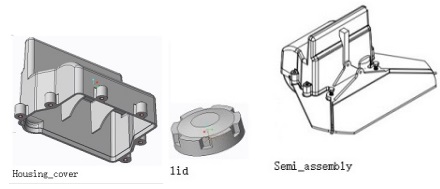 * Housing_cover : 6pcs DIN912 M3 screws
Housing_main : 1pcs Pg7 cable gland with sealing ring
1pcs Pg9 plug with sealing ring
2pcs DIN933 M4 screw
*Parts, injection gate(sprue) and runner layout in tooling:
Tooling design snapshot(23rd Jan., 19)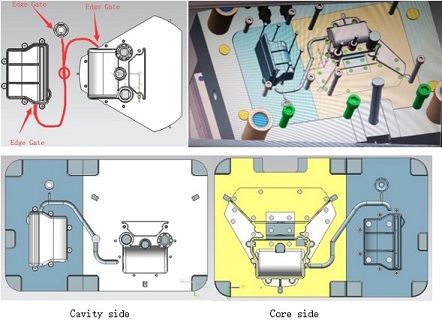 *6pcs M3 thread holes on Housing_cover part, these are to be made by drilling (Option1)
Option 2: Use special installation tool to push threaded insert rotating down lightly into screw hole until the end of it is no more than between 1/4 to 1/2 lap away from workpiece plane. option 2 can significantly improve threaded joint strength and wear resistance; prevent loose threads and slippery teeth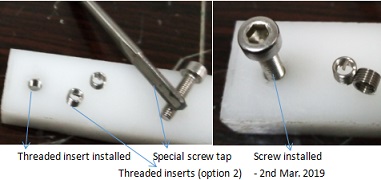 1pc Pg7, 1pc Pg9 and 2pcs M4 thread holes on housing_main part are intended to be formed by stud bolts in molding process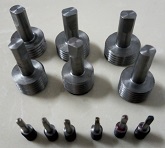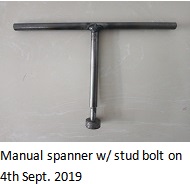 Stud bolts(6pcs for M4 threaded holes, 3pcs for each Pg7 and Pg9 threaded holes) - 9th Mar., 2019
*Fine EDM texture on visible surfaces need to be changed to eroding one because of some inaccessible surface positions to EDM work.(15th Feb., 2019)
*Using edge injection gate for parts: faster melted plastic flow, combined with curved runner, PC parts have better surface looking - no 'ripple' trace.
*Assembly between lid part and housing_main part is tight fit.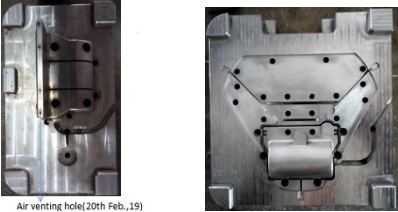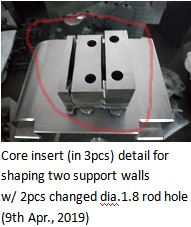 *Air venting holes solve 'air-trapping' trouble and help fully filling plastic around steel wall, risk of steel deformation is reduced to stand up to long moulding cycle time. Core insert in 3pcs works as same function.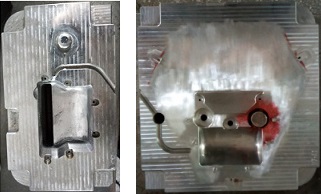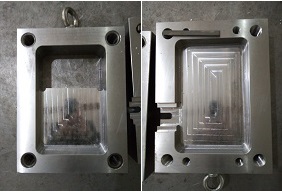 *20th Feb., 2019: Cavity side: Eroding work after polishing work; Core side: Ribs around thread holes Pg7, Pg9 and commom through hole are being made by EDM work
*Ready mold base: 25th Feb., 2019, necessary grinding work at surroudning surfaces of core and cavity parts after fitting test.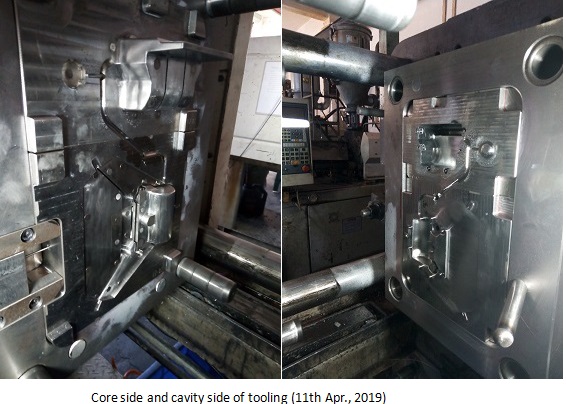 *Sept.19,2019 - Pigment diffusion oil(扩散油)is a type of silicone oil, also known as diffusion oil or pigment toner. In the plastic aspect, its quality are stable, cost-effective, non-toxic, harmless, non-radioactive, colorless, tasteless! It can function as diffusion, brightening, and demoulding. Improve the dispersibility of the pigment, make the coloration more uniform, the color is more vivid, make the surface of the product bright, eliminate the surface defects caused by the filler, and reduce the surface viscosity of the melt.